INNOVATIVE. PRECISE. SUSTAINABLE
Submersible 3, Large Wall Washers, and Visionary Series Spotlight fixtures help fulfill architectural landscape lighting for this residential home lighting design in Houston.
Houston Luxury Home Lighting Project Description
In this lighting design project, Houston Luxury Lighting installed a variety of Garden Light LED fixtures for the front and back of the residence which included: S3, V2, Large Wall Washers and S1 Halo led lights. These fixtures were applied in the perfect areas throughout the front of the residence such as the driveway, garage, and along the front entryway. Houston Luxury Lighting used up-lighting techniques to highlight the strong, architectural features along the residence and their work has left the homeowners extremely happy with their new home lighting design.
While designing the backyard space for the residence, Houston Luxury Lighting planned to use several types of led lighting fixtures such as the V2 directional spotlights, V3 Down lights, and the S3 Submersible Super Saturn series around the home's property. These led lighting fixtures were again installed appropriately along the side of the yard, the upper and lower terrace, and lastly, the side of the residence soffit to provide appropriate lighting all around the homes architecture.
LED Lighting Designs that Outshine the Rest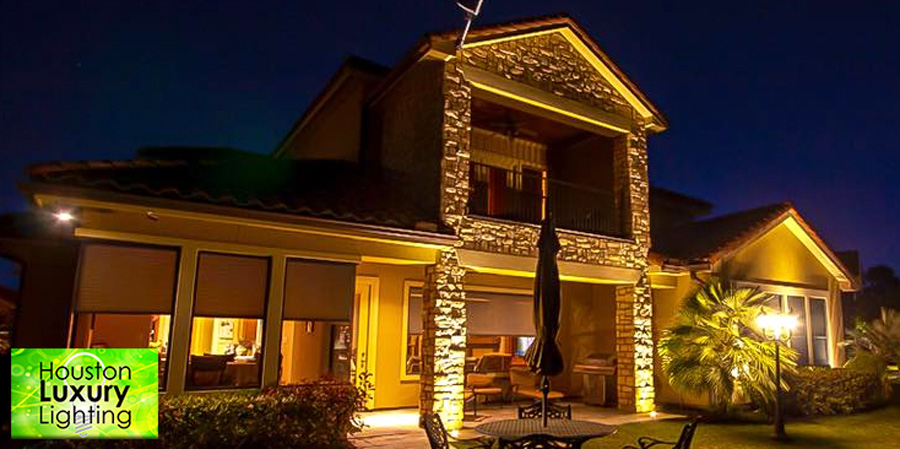 As an end result of their hard work and the proper design planning of this lighting design project, the homeowners are very pleased with the overall design of the lighting fixtures around their residence and admits their home outshines their surrounding neighbors each and every night.
To learn more about this luxury lighting design project that's received recognition as our June lighting application winner, please view this pdf on the lighting design project and the led fixtures in more detail.
With solid well-planned exterior lighting designs like this being installed for local residents, it's no wonder that this outdoor lighting design company in Houston has nearly 70 reviews and a 5 star rating on Google.